During office hours, you can contact us by phone or you can send a message through the Patient Portal.  After office hours, on weekends and holidays, an on call provider is available for urgent needs.  If it is a life threatening emergency please call 911.
We do not refill any prescriptions after hours, if you need a refill on a prescription please call your pharmacy.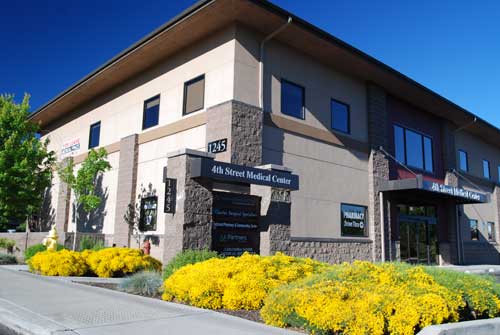 Redmond Medical Clinic
1245 NW 4th St Suite 201
Redmond, Oregon 97756
Phone: 541-323-4545
Fax: 541-323-4546
Office Lobby Hours (effective 7/1/22):
Monday 7:00 AM – 4:00 PM
Tuesday 7:00 AM – 4:00 PM
Wednesday 7:00 AM – 4:00 PM
Thursday 7:00 AM – 4:00 PM
Friday 7:00 AM – 12:00 PM
Our office is closed from 12:00 PM – 1:00 PM each day for the lunch hour.
Phone Hours are 7:00 AM – 4:00 PM each day except Fridays
Driving Directions:
Coming From Bend – North on 5th Street HWY 97 Turn right onto NW Kingwood Ave. take first left onto 4th St.
Coming from Madras- South on BUS HWY 97 Turn left on NW Larch Ave. Take first right on 4th St.